Brian May
From Queenpedia.com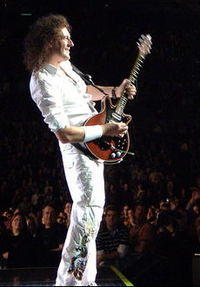 Biography
19 July 1947, that's a really big day for the pop-world. On that day in the small town of Twickenham in England, one of the world's greatest guitarists of all times, Mr Brian May was born. His mother Ruth says that he in the beginning wanted to be a surgeon, but Brian himself has no memory of that. But one thing is certain, already in the early years you could see that he was going to be a great musician. He started to learning playing the piano at age 5, the ukulele at age 6, and for his 7th birthday he got his first acoustic guitar.
In August 1963, when Brian was 16, he and his father Harold started the work on his electric guitar. The guitar's neck is made out of Mahogany from an old fireplace. The body is mainly of oak, and the tremolo is made of an old knife edge and two motorbike valve springs. The fret-marks on the neck of the guitar is made out of old pearl buttons. The guitar quickly got known as the Red Special. For guitar pics, Brian uses something so special as an old sixpence coin.
In 1968, Brian May and Tim Staffell, both students at Imperial College, decided they wanted to form a group. Brian placed an advertisement on the college notice board for a "Ginger Baker-type" drummer, and a young medical student called Roger Taylor auditioned and got the job. They called the group Smile. Smile were signed to Mercury Records in 1969, and had their first experience of a recording studio in Trident Studios that year. Tim Staffell was at Ealing College of Art with Freddie Bulsara, and introduced him to the band. Freddie soon became a keen fan. Sadly, in 1970 Smile decided to call it a day, as nothing seemed to be happening for them. Tim went off and joined a band called Humpy Bong, and Freddie left his band Wreckage and joined up with Brian and Roger - it had all begun.
In April 1974, the band embarked on their first-ever USA tour as guests to Mott The Hoople. But in May of that year, whilst on tour, Brian collapsed with hepatitis, and the band had to cancel the rest of their dates. Because of Brian's collapse, the band had to start with the making of their third album on their own. But finally Brian felt well enough to go in to the studios and record his guitar parts. And in November 1974 Sheer Heart Attack was released.
In April 1983, at the same time as Freddie began the work on his solo album, Brian flew out to Los Angeles and gathered together a few close friends in the Record Plant studios there. Brian had some basic ideas to work on, but it was generally a lengthy jam session. However, Brian had no intention of wasting the talents of Edward Van Halen, Alan Gratzer, Phil Chen, and Fred Mandel - and so kept the tapes rolling throughout the whole session. The result was the mini album Star Fleet Project, which was released in October 1983.
In June 1984, a company called Guild Guitars launched a special copy of Brian's homemade Red Special guitar. It was called the BHM1. Sadly, about a year later, Brian and Guild had some discussions about the design of the instrument which resulted in Guild ceasing the production.
In July 1991, Brian flew out to Montreux to continue the work on his long-awaited solo album, which he had begun in 1988. That April, Brian had been commissioned by a London advertising agency to write a piece of music for an advertising campaign for Ford cars. The resulting track, Driven By You, was so good (and proved so popular) that Brian released it as his first solo single on November 25th. It made the top ten in the UK charts.
September 1992 saw the release of the long-awaited Brian May solo album, called Back To The Light. The album went into the UK charts at number 6 and achieved double gold status. The Brian May Band was then formed. Having warmed up in Chile, Argentina and Brazil in November 1992, they embarked upon a world tour, beginning in the USA and Europe as special guests to Guns N'Roses. They then went on to headline their own sell-out tour of North America, Japan and Europe, finishing in Portugal in December 1993.
June 1998 saw the release of Another World, to date Brian's final solo album. He remains the official spokesman of Queen and their past, present, and future. In 2004, he teamed up with Paul Rodgers for the UK Rock & Roll Hall of Fame induction ceremony; with Roger guesting on drums, the three felt a real chemistry and decided to join forces. You can read all about Brian's activities, both within Queen and on his own, here on his soapbox.
—Simon Davies (Ramirez), originally appeared on the now-defunct Queen Heaven site. Minor edits made by Lester Burnham.
Miscellanea
Songs credited to Brian on Queen albums

Queen songs with Brian on lead vocals

Solo albums

Family

Married to Chrissy Mullen (29 May 1976 - 1987) and had three children with her:

- James (15 June 1978)
- Louisa (22 May 1981)
- Emily Ruth (17 February 1987)

Romantically linked to Anita Dobson in 1986, whom he later married (18 November 2000)