Cozy Powell
From Queenpedia.com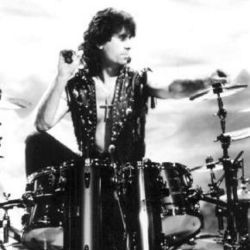 Cozy Powell was born in Cirencester, Gloucestershire, England, and started playing drums in the school orchestra, thereafter playing along in his spare time to popular singles of the day. The nickname 'Cozy' was borrowed from the jazz drummer Cozy Cole.
Powell along with Neil Murray (fellow ex-member of Cozy Powell's Hammer, Whitesnake, Gary Moore and Black Sabbath) were members of Brian May's band, playing on the Back To The Light and Another World albums.
Cozy Powell died on April 5, 1998 following a car crash, driving his Saab 9000 in bad weather on the M4 motorway near Bristol, while talking to his girlfriend on his mobile phone.