Freddie Mercury
From Queenpedia.com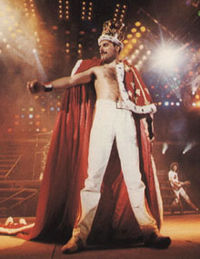 Biography
The life of Farrokh Bulsara began on the East African island of Zanzibar on 5 September 1946. 25 years later in London under the name Freddie Mercury he was fronting the now legendary rock group named Queen.
The son of Bomi and Jer Bulsara, Freddie spent the bulk of his childhood in India where he attended St. Peter's boarding school, near Bombay. It was during his time there that the headmaster of the school realized that Freddie had musical talent and suggested piano lessons to his parents. He began them at the age of seven. He was also involved with the schools theatre and choir. It was at St.Peter's that Freddie formed his first band, The Hectics. No one could foresee where a love of music would take him.
The Bulsara family moved to Middlesex in 1964, due to political unrest in their country. In 1966, he enrolled in Ealing College of Art to study graphic illustration. From there Freddie joined up with a blues band called Wreckage while studying graphic design courses at Ealing College of Art. While singing for Wreckage, a fellow student, Tim Staffell, introduced Freddie to Roger Taylor and Brian May, founding members of a band called Smile. Watching Smile made Freddie realize that he really wanted to be in a band himself, so after he finished his diploma in graphic art and design, he joined a band called Ibex, taking over lead vocals from their guitarist. Smile metamorphosed into Queen when Freddie joined Roger and Brian to start a new band with himself as the lead vocalist. The final member of the band, which was to stay together for the next 20 years was bassist John Deacon.
The rest is rock history. EMI Records promptly signed the band and in 1973 their debut album Queen was released and hailed as one of the most exciting developments ever in rock music. The immortal operatically-styled single Bohemian Rhapsody was released in 1975 and proceeded to top the UK charts for 9 weeks. A song that was nearly never released due to its length and unusual style but which Freddie insisted would be played beca me the instantly recognizable hit. By this time Freddie's unique talents were becoming clear, a voice with a remarkable range and a stage presence that gave Queen its colourful, unpredictable and flamboyant personality.
Through Freddie's ability to project himself and the band's music and image to the four corners of 70,000 seater venues they became known as the prime developers of stadium rock, a reputation perpetuated by their pioneering tactics in South America where they performed to 231,000 fans in Sao Paulo, a world record at the time. They also became known as the key innovators of pop videos as their catalogue of 3 minute clips became more and more adventurous in style, size and content.
In the mid 1980s, Freddie started concentrating on his solo career which was to run in tandem with Queen ("the mothership") for several albums, commencing with the 1985 release of Mr Bad Guy. Freddie's much loved sense of self-parody reached a zenith with his cover version of The Platter's song The Great Pretender in 1987, the video of which recorded him descending a sweeping staircase among acres of identical cardboard cut-outs of himself.
His first major collaboration outside Queen was with Dave Clark for the recording of London's West End musical, Time. This was followed in 1987 with the realization of one of Freddie's long term dreams: to record with the world-revered opera diva Montserrat Caballé. The LP's title song Barcelona went on to become an anthem for Señora Caballé's home city and the theme for the Olympics in 1992.
On 24 November 1991 (approximately 7pm London time) Freddie's struggle against AIDS ended when he passed away just over 24 hours after he had publicly announced he had the disease. No one knows exactly how long Freddie knew he had the AIDS virus since he didn't tell anyone, even the band, for a long time. Some people have estimated about five years. Musicians and fans from all over the world paid their highest respects as the passing of rock music's most innovative, flamboyant ambassador signified the end of an era.
Freddie Mercury, who majored in stardom while giving new meaning to the word showmanship, left a legacy of songs which will never lose their stature as classics to live on forever.
—Simon Davies (Ramirez), originally appeared on the now-defunct Queen Heaven site. Minor edits made by Lester Burnham.
Miscellanea
| | |
| --- | --- |
| Songs credited to Freddie on Queen albums | Solo albums |