Spread Your Wings - Promotional Video
From Queenpedia.com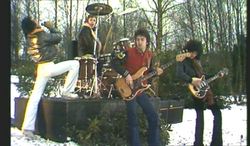 Spread Your Wings, a John Deacon ballad from the News Of The World album was a minor hit in February 1978. The video for the song was recorded in the grounds of Roger's newly bought Surrey home, which was still housing it's previous owners at the time. According to the commentary on the Greatest Video Hits 1 DVD, the band only shot there purely and simply because they couldn't think of anywhere else to film!
It was a cold January afternoon in Surrey, as is apparent from both the snow on the ground and the redness of the band's noses! Roger and Freddie wisely wore gloves, Freddie's pair belonging to Ratty, his roadie at the time, while Brian and John had to suffer the winter chill on their bare hands in order to 'play' guitar convincingly!
The video was recorded on a monumental day in Queen's history - the day they chose to manage themselves (with some assistance) after signing severance agreements with then managers John Reid Enterprises in the back of Freddie's Rolls-Royce.
It also marked the first appearance of the John Birch copy of Brian's famous Red Special guitar, which later met an unfortunate end on an American tour, when Brian threw it off stage only for nobody to catch it. The video was included on the Greatest Flix VHS and the Greatest Video Hits 1 DVD.
Credits
| | | | | | | | |
| --- | --- | --- | --- | --- | --- | --- | --- |
| Version | Name | Artist | Recorded | Format | Length | Director | Filming Location |
| Standard Version | Spread Your Wings | Queen | January 1978 | Video | 4.35 | Rock Flicks | Millhanger House, Surrey |
Availability