Tim Staffell
From Queenpedia.com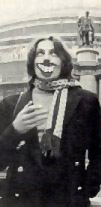 Biography
Tim Staffell was born 24 February 1948 in Isleworth, Middlesex, and formed the band 1984 with Brian May in 1964. Tim was a fan of the blues, which was blossoming in London in the early 1960s, and took up the harmonica as a result, before moving on to the guitar and, eventually, the bass guitar.
In 1965, after leaving the Hampton School (where he and Brian met), Tim entered the Ealing College of Art and Design, studying for a diploma in graphic design. Though Brian went off to Imperial College, the two continued to work together for the next three years in 1984, and when that band disbanded, they promptly formed the power trio Smile, recruiting Roger Taylor as drummer. While at Ealing, Tim met Freddie Bulsara, who became a fan of Smile and would often follow the band around England as they played gigs.
In 1970, frustrated with Smile's lack of success, Tim departed the band and formed the band Humpy Bong, and then joined experimental progressive rock group Morgan, fronted by keyboardist Morgan Fisher. The band released two albums, Nova Solis and Brown Out, before Tim left and pursued graphic design and visual art, specifically concentrating on modelmaking, animation, and directing commercials. Incidentally, he created the alien monster (unofficially named Ernie) on the cover of Roger's 1981 solo album Fun In Space, though Tim later admitted he was unaware of the connection.
He joined The Cross onstage for two nights in December 1992 at the Marquee Club, playing guitar on a few numbers with Roger and the band on the first night, while on the second night, Brian also appeared, marking the first time in 22 years that the three had played on a stage together. Tim once again returned to graphic design, though he formed his first band since the 1970s in 2001, and began working on an album. Titled aMIGO (the album name was also the band name), the album was released in 2003 and featured re-recordings of two Smile songs, Doin' Alright and Earth, with guest guitarist Brian May on both.
Miscellanea
Discography

with Smile
with Humpy Bong
"Don't You Be Too Long" / "All Right Till Then" (single, 1970)
"Don't You Believe It" (unreleased single, 1970)

with Morgan
Nova Solis (album, 1972)
The Sleeper Wakes (unreleased album, 1973)
Brown Out (album, 1977; actually The Sleeper Wakes under the original title)

solo