Under Pressure (Rah Mix) - Promotional Video
From Queenpedia.com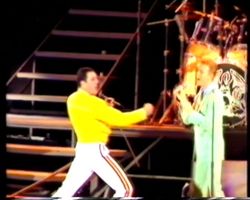 Greatest Hits III completed the band's best-of trilogy in 1999, and to celebrate this, Brian May and Roger Taylor reworked Queen and David Bowie's 1981 UK chart topper Under Pressure. The so-called 'rah mix' became a Top 20 hit, and called for a rather impressive new video.
Directed by the Torpedo Twins, the video used footage of Queen performing Under Pressure live at Wembley Stadium on 12th July 1986 and David Bowie and Annie Lennox's performance of the song with Brian, Roger and John at the Freddie Mercury Tribute Concert (also at Wembley Stadium) from 20th April 1992. As Bowie never performed the song live with Queen during Freddie's lifetime (even the original video was a collage piece), Lennox was carefully edited out, and the two performances were mixed; luckilly Freddie ran all over the stage for most of his gigs, so it was relatively easy to blend him into the Bowie footage, with relatively few shots of the two frontmen together necessary.
The result was a success, premiering on Top Of The Pops 2 during a David Bowie special in 1999, and appearing the following month on the Greatest Flix III VHS, and for the first time on a Queen release, as a CD-Extra video on one of the two CD singles for the song, together with four brief videos of the Torpedo Twins discussing the technology used to splice Bowie and Mercury together.
Credits
| | | | | | | | |
| --- | --- | --- | --- | --- | --- | --- | --- |
| Version | Name | Artist | Recorded | Format | Length | Director | Filming Location |
| Standard Version | Under Pressure (Rah Mix) | Queen + David Bowie | 1999 | Video | 4.21 | The Torpedo Twins (original footage: Gavin Taylor & David Mallet) | Wembley Stadium, London |
Availability