The Cross
From Queenpedia.com
History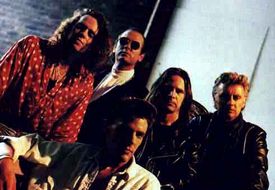 The late-'80s side project of Queen's drummer Roger Taylor recorded three albums during their time together. Although Taylor stated when the band formed in 1987, that the group would be a force to be reckoned with within six months, the group never took off in any market, except Germany, and broke up in 1993.
With the conclusion of Queen's Magic Tour in 1986, Roger Taylor took the opportunity of a lack of activity on the Queen front to record a further solo album, with the assitance of Spike Edney. However he also wanted to be able to tour with the new material, and so ads were placed in the UK music press and eventually a band was formed, named The Cross. Leaving his drum kit behind, Taylor assumed the duties of rhythm guitarist and lead vocalist for the group. The rest of the band consisted of Clayton Moss (guitar), Peter Noone (bass guitar), and Joshua J. Macrae (drums). Although the album was already recorded, Roger took the band to Ibiza to re-record some parts so that the members would be entitled to royalties on the album, Shove It. A hybrid of classic rock and dance influences, the album received some praise in the British music press but failed to get higher than the bottom of the album charts, as did it's three singles. In America, the album failed to chart and the group could not get another album released there.
The band resumed operations after the next Queen album with Mad: Bad: And Dangerous To Know, which was written by all the members in the band and embraced a classic rock sound. The lead single, Power To Love, only dented the bottom of the British charts, while the album failed to chart at all. However, the band did continue to do well in Germany, and, with no record support in England, released their third album, Blue Rock, in Germany and Japan only.
The death of Freddie Mercury in 1991 resulted in the withdrawal of the third single from that album, Life Changes and appears to have made Taylor re-evaluate his priorities, as apart from a couple of one-off concerts, the group effectively ended at that point.


Personnel
Discography
Studio Albums:

Live Albums:

Note: both live albums were issued through the fan club.

Singles: